When people see my Fine Art Photography, sometimes they tend to think that to do crazy surreal/levitation photography one needs a great studio and expensive equipment … lots of it. While equipment is nice, and having a studio sometimes can be convenient, I have discovered that my best images are created with very little gear. All you really need is a cool location, a tripod (optional, but it makes editing so much easier), and of course, a camera.
For this particular shot I also used a small ladder and recruited the help of my sister, brother, and cousin… they are the best people ever and they do everything I ask them to! This last thing makes my job easier, and fun!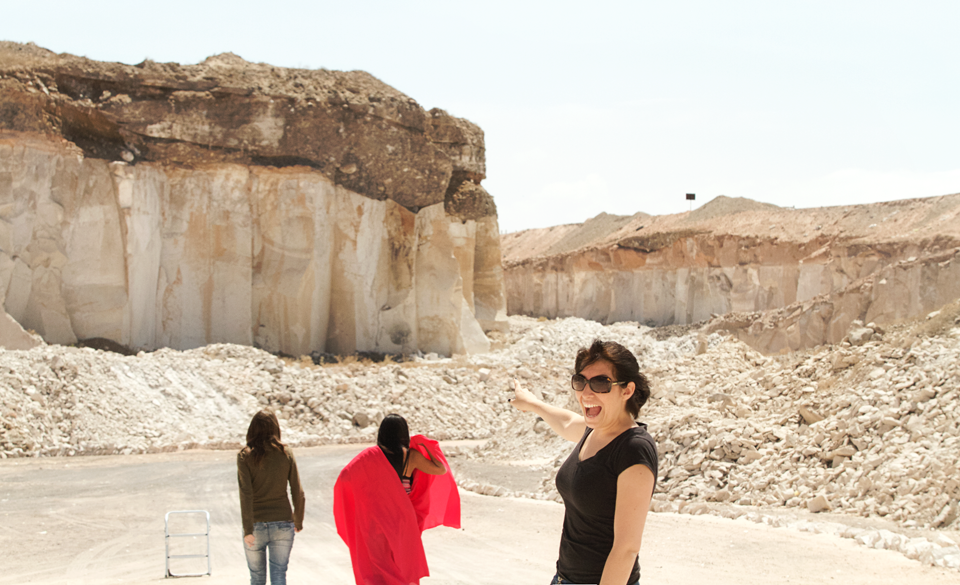 I am a really lucky photographer because I come from a country with so many beautiful locations. I am from the gorgeous Peru, and in Peru it is almost hard to choose between beautiful places to photograph! For this shoot we travelled to the white volcanic quary that is conveniently located about 20 minutes away from my parent's house, in a city called Arequipa.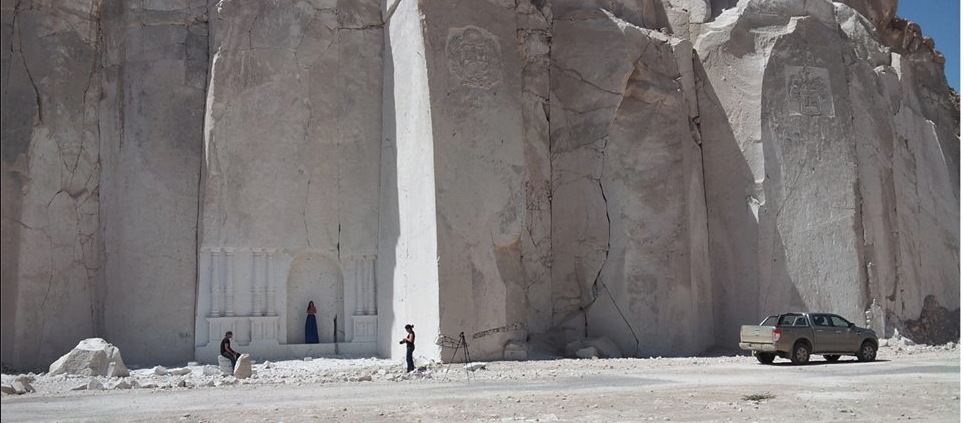 You can see that this place is obviously stunning and HUGE!! If you know photography you understand that shooting between 11 am and 2 pm is not ideal, but we had no choice (we got lost and it took a little longer than planned to get to where we were going). I tried working with what we had and shot mainly in shade or against the light (backlighting). As a photographer I believe that there is no excuse to not getting the shot, you must work with what you have and do the best you can in any situation 🙂 This is a little something I learned from working for magazines, I am so thankful for that.
Even when it is super windy and you have to get creative to get the dress to look the way you want it to 😉 It helps to work with fun people, and I usually have some amazine people helping me in these projects.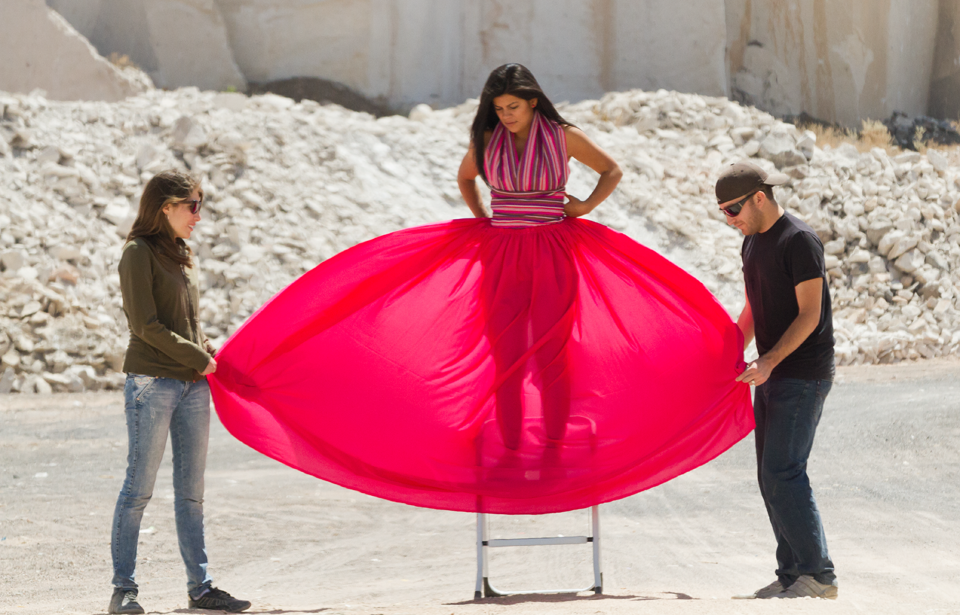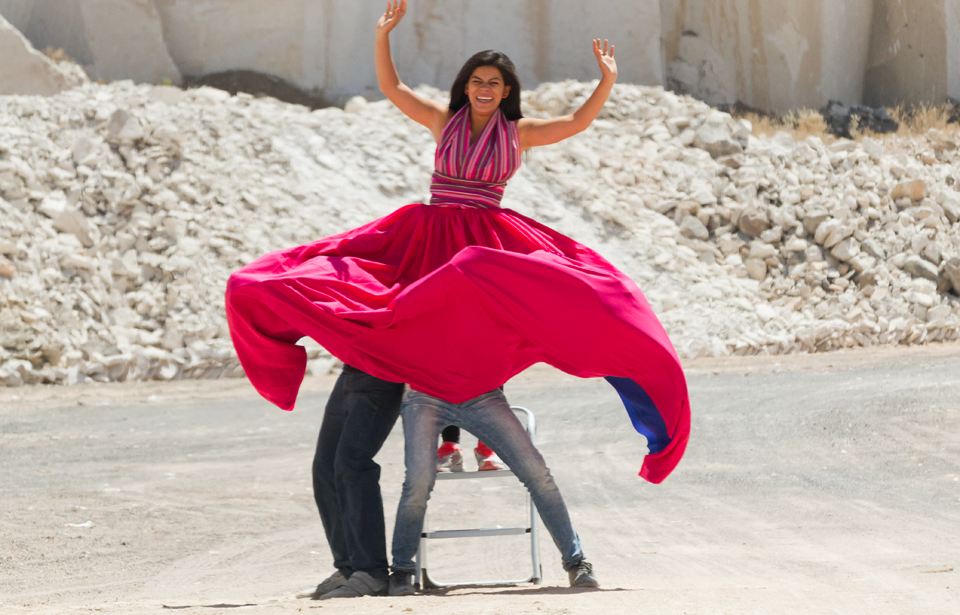 One thing you should know about my surreal photography images, I usually don't use real dresses in any of them. It can sometimes be a little limiting.
I own several long pieces of fabric and tie them around my models in different ways to create a once of a kind "dress" for every image. I love the idea of these dresses being unique and ephemeral. My models usually are fully dressed under the fabric. I want them to be completely comfortable, specially because I often ask them to jump, flip dresses around, and do other silly things.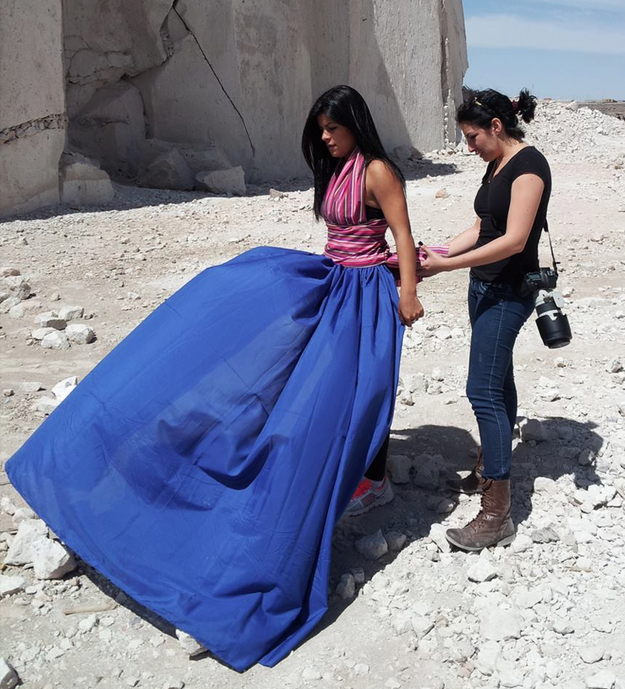 I am a Canon girl so, as far as equipment goes, I used a Canon 7D and my 70-200 mm Canon Lens. I set it up on the tripod and I was set. This is the first time I got to use the 70-200 mm lens for my surreal photography. It is an amazing lens and my favorite to use for my portraiture work.
Once everything was set, all I had to worry about was glare and dust.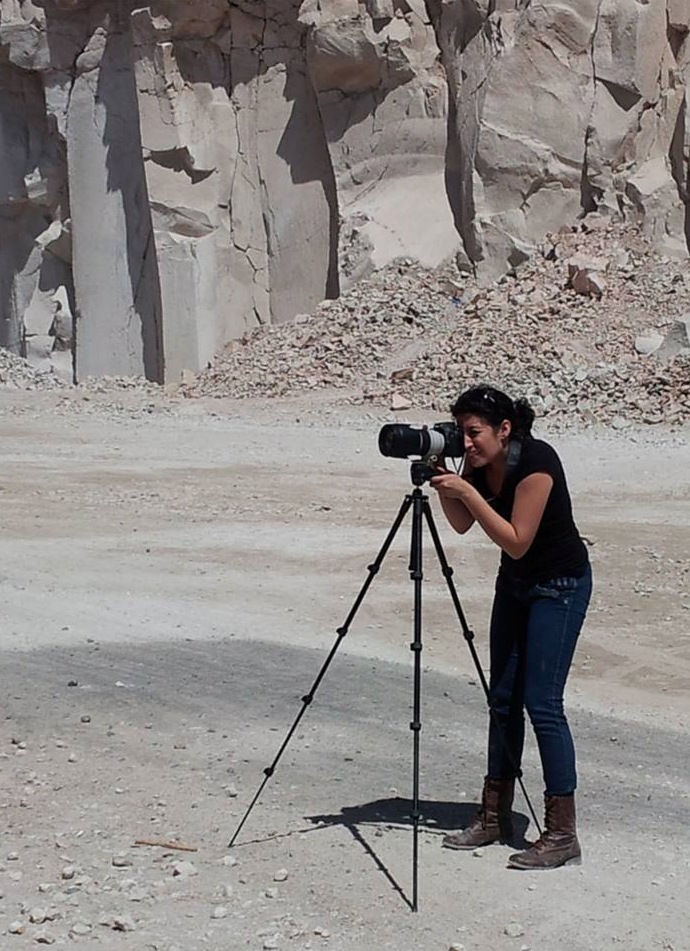 All that was left to do was explain what I was going for. What kind of movement I wanted, what the expression should be, how the dress should move. I really enjoy this part of the process because it is really entertaining trying to explain the crazy ideas that are in your head to less crazy people.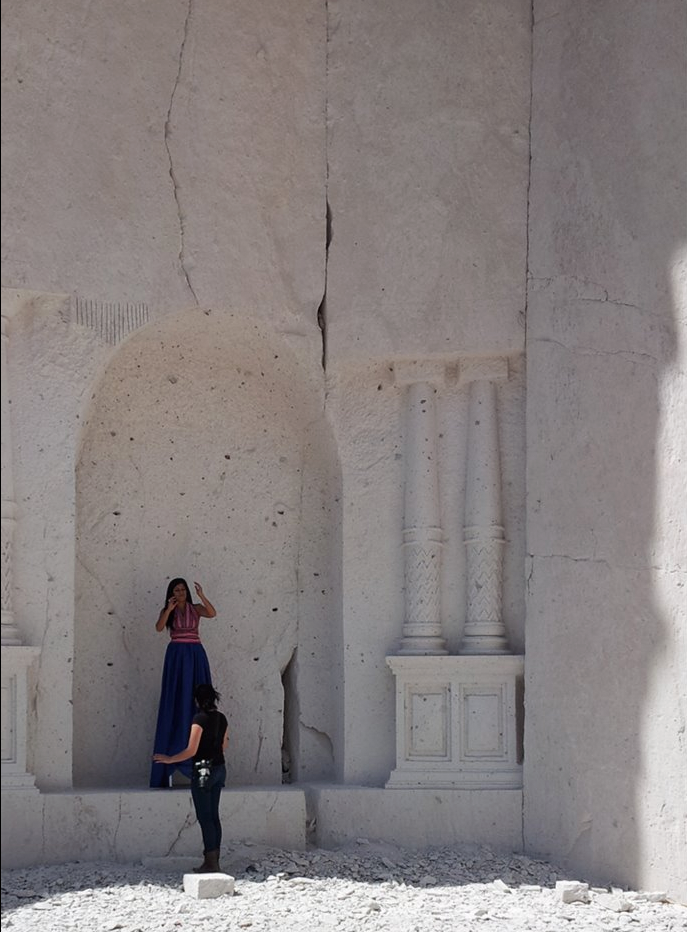 I really wanted a sense of movement. I had in my mind an image of quiet movement, with hair flowing that the fabric flowing. I asked my sister to flip my Maria Gracia's hair from all directions, this was very funny because they were trying really hard not to laugh.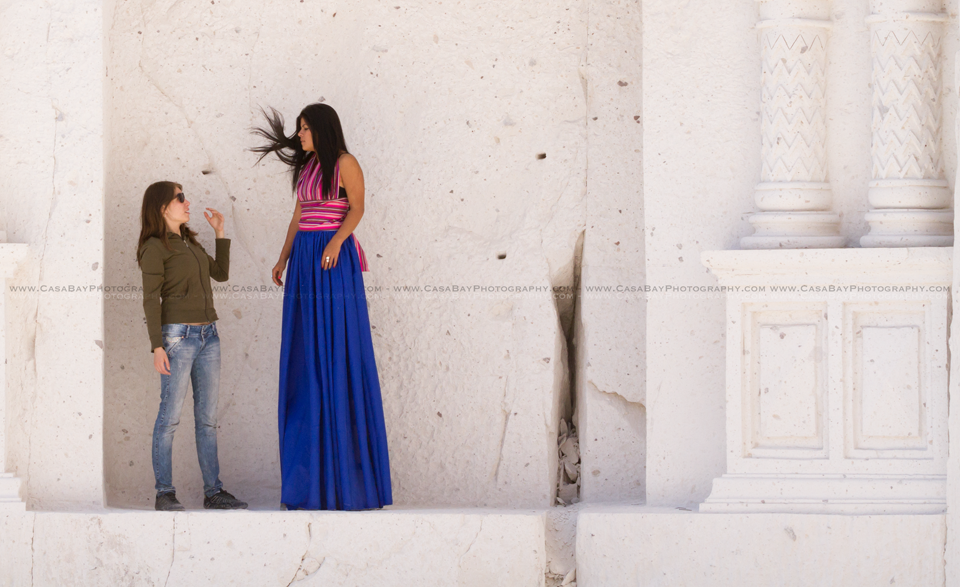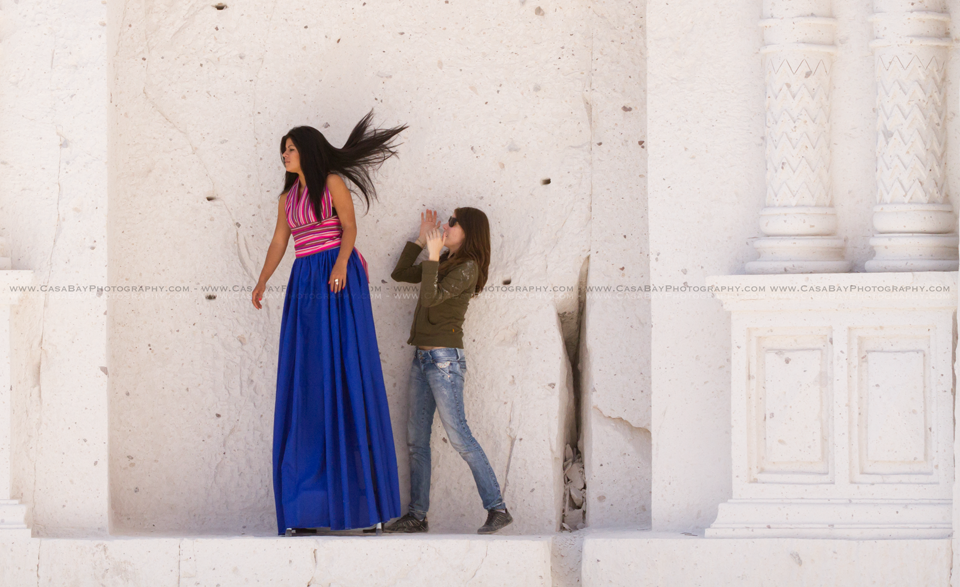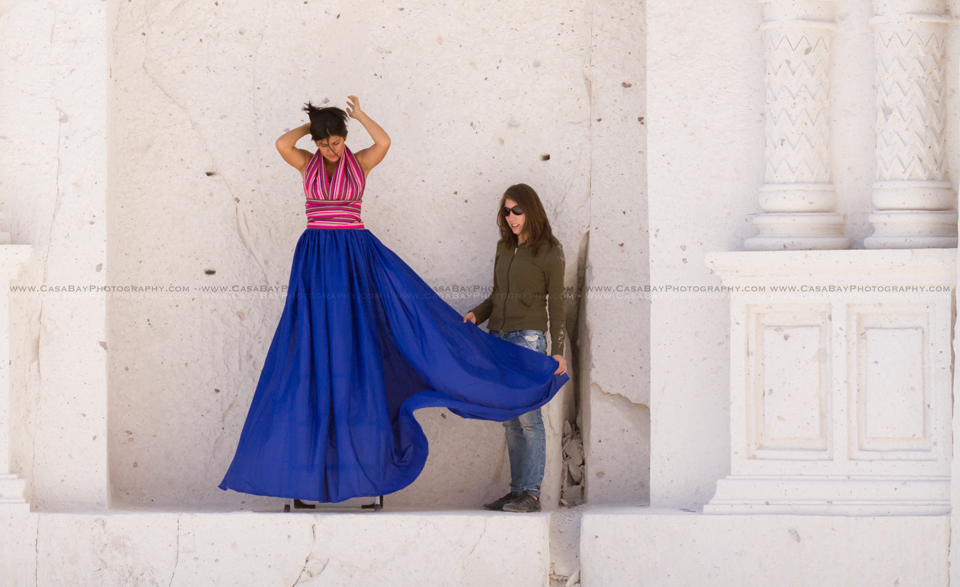 DONE!! That is it! All that is left to do is put the images together in Photoshop to create the final piece. I hope you like the finished image as much as I do.